Swami Omkarananda — an obituary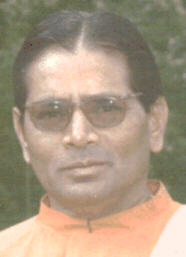 Swami Omkarananda Hails from Adrhra Pradesh. He was born in Hydrabad on the 25th December 1929. He came to the Sivananda Ashram as a small boy seventeen years of age in the year 1946 and Sri Gurudev immediately entrusted him with the work of type-writing, copying and editing. He had an insatiable desire for reading books which desire of his he fulfilled, by pouring over tomes throughout the night with a little chimney lamp during those days when electricity was not in the ashram. His passion to become a literary specialist in the English language was at least partially fulfilled to the satisfaction of Sri Gurudev himself and latterly as an author in his own right he demonstrated complete mastery of written English.
He was entrusted again with the management of the ashram's printing press in the year 1953, in which capacity he worked for a year. Later on like a devil he worked day and night without taking rest, taking only tea, in which work Sri Narasimulu of the ashram assisted him very effectively, especially in type-writing manuscript, copying manuscript etc of Sri Gurudev. Apart from editing and compiling such massive works like Sadhana, Swami Omkaranandaji is also known as the author of some independent productions like the Foundation of Swami Sivananda's literature, during the days of his life in the ashram, until about 1966.
(Adapted from 'The Master, his mission and his works' compiled and edited by Sri N V Karthikeyan and published by Swami Krishnananda for the Divine Life Trust Society in 1987)
It was just after this time that Swamiji found his way to Wintherthur in Switzerland at the invitation of Hanna Hermann. Following one short visit he returned a second time and settled down to ultimately build a substantial following of highly committed and devoted followers.
After in excess of thirty years the ashrams Swamiji founded in Wintherthur, Hirschberg Austria and Rishikesh Himalayas India, are well equipped, efficiently run and command enormous respect for their contribution to the development of Yoga in these countries. In this period there have been times when the very nature of the ashrams and the character of his followers have been severely tested but the spirit of Swamiji and his followers remained undaunted in the face of adversity.
The ashram in Winterthur most notably is responsible for producing and publishing Swami Omkaranandaji's writings and distributing the resultant handy booklets on a vast number of subjects to earnest seekers everywhere free of charge. In particular his daily readings entitled 'Spiritual Development' will have found its way to many readers, since Satchi and I invariably return from our annual visit to the ashram in Wintherthur with several new copies.
We received an e-mail from Maharish in Wintherthur on 4th January 2000 that read, 'It is my duty to inform you that Paramahamsa Swami Omkarananda Saraswati dwells no more amongst us in His physical form which we all so dearly loved'. Swamiji was recovering from a bout of flu and apparently fully conscious and with eyes wide and luminous he gazed at his devotees present, then breathed his last at about midnight on 3rd January.
In the brief narrative describing Swami Omkaranandaji by Sri Karthikeyan above, mention is made of his tireless capacity for hard work. Another quality that distinguished itself in him was his speed of work. He was able to read and digest the content at phenomenal speed and he worked in the same way throughout his life. His devotees were encouraged to develop the same attributes.
Swamiji once wrote:
'Swami is working as much and as quickly as possible — Why?
I think that I am going to die tomorrow, and you must use me as fully, as quickly, as completely as possible. You must think like that, then you will progress rapidly. Why am I working like a mad person — quickly, quickly? Because I am thinking tomorrow morning I die. Whatever good I have to do I must do quickly and people are not sufficiently guided. There are many books written but even that is not sufficient. More have to be written. More has to be given so that people may have sufficient food, so that even if I die they will not miss my presence. That is why I am trying to do as much good as possible, as quickly as possible.'
Swamiji wrote exhaustively on all subjects, so his devotees rarely write about him themselves as there are always some of his own words that seem appropriate. To mark his passing we have broken ranks to try and give readers just a small insight into Swami Omkarananda's background as most will not have had the opportunity to meet him personally.
NWW